Innovative Continuous Patient Monitoring for Healthcare Providers

VITALERTER™ is an innovative and cost-effective care monitoring solution designed for healthcare providers (Hospitals, Clinics, Nursing homes and Telecare). Using artificial intelligence and motion sensors, it detects bed exits, measures continuously the Heart Rate, Respiratory Rate and analyses precisely body movements without touching the patient in bed.In case of adverse events, the system alerts automatically and vocally the nurses for an immediate intervention in the room.

In case of adverse events, the system alerts automatically and vocally the nurses for an immediate intervention in the room.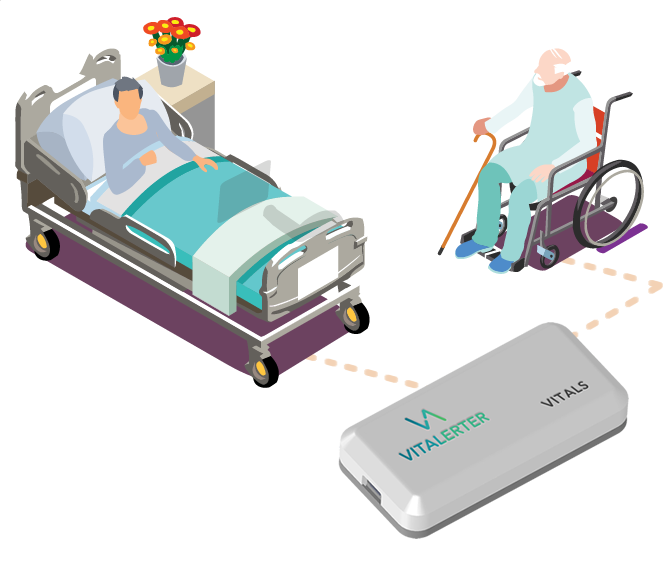 VITALERTER™ has proven to reduce falls, pressure ulcers, prevent critical events and consequently costly hospitalizations and treatments. The sensor is simply placed under any medical bed with no loss of comfort and monitors continuously the vital signs and movements.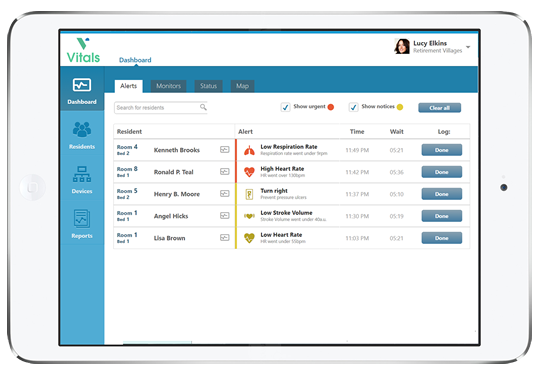 Early Warnings of Patient Deterioration
Changes in Heart Rate and Respiratory Rate can indicate a critical event 6-8 hour before the event. Continuous monitoring of vitals allows opportunities for early intervention and avoids failure to rescue.

Benefits of Continuous Monitoring with VITALERTER™:
 Encourages early intervention to prevent patient deterioration and falls
 Help nurses to manage better their time and to provide timely patient care
 Generates real-time trends and reports to analyze vitals patterns, effects of medication, etc.
 Provide data-driven decision making, removing the need to assume
 Reduce overall hospitalization costs by preventing re-admissions
 Enhance patient safety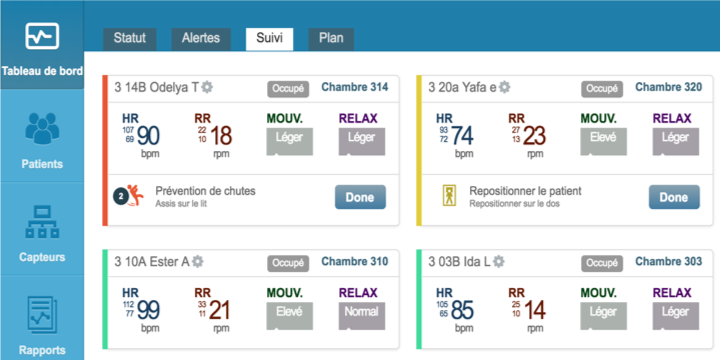 Reduce Falls & Pressure Ulcer Incidence
Vitalerter aids better management and prevention of falls and pressure ulcers through its motion sensors and turn program
Motion-Based Fall Prevention provides:
• Patient personalization: Levels of Bed Exit Sensitivity tailored to each patient depending on their condition
• Real-time alerts: Allows nurses & clinicians to get to the patient's bedside when the fall is still preventable
• Optimized night care through personalized monitored parameters set to suit a patient's needs at night
• Early alert of patient's potential attempt to exit the bed up to 2 minutes prior to the bed exit indication.

VITALERTER™ can reduce the incidence of falls by over 70%
The average hospital length of stay following a fall is 13.9 days. The cost of hospitalization for these falls, including an average 13.9-day stay reach an average of $15,000 in western countries. Facilities are, on average, responsible for just 5% of these falls, but the costs are dramatic. Falls by elderly residents are anticipated to cost $43.8 billion by 2020.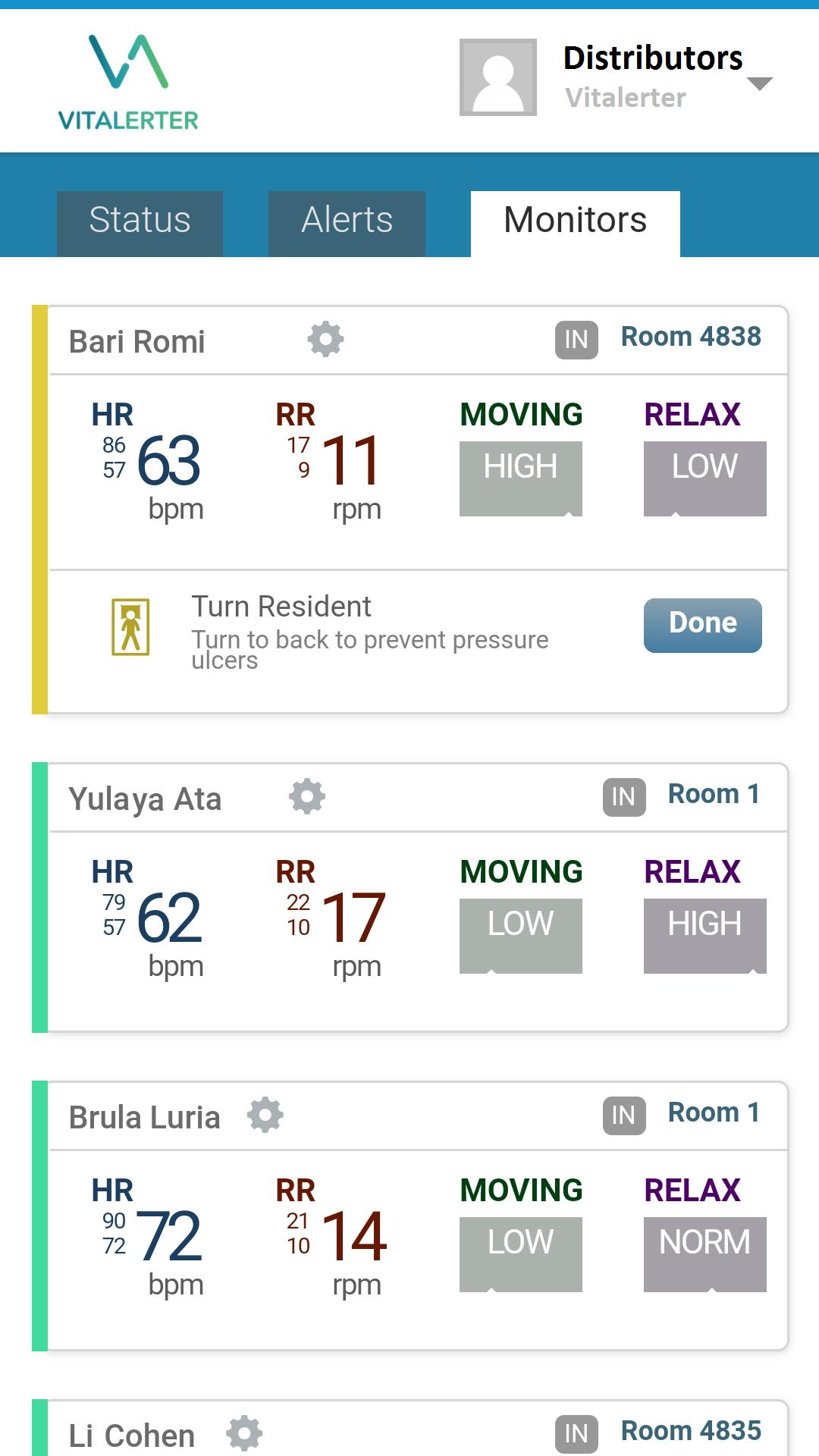 Pressure Ulcer Reduction Program provides:
• Automatic motion analysis which assists nurses to identify patients at high risk of developing Pressure Ulcers
• Information and analysis on patient turn movements
• Real-time turn reminders to on-duty caregivers' handheld devices
• Movement data reports, including system recognition of patients' turns, response times, and ability to ensure team protocol compliance

VITALERTER™ can reduce the incidence of pressure ulcers by over 78% within 30 days of implementation. Turns can be scheduled by patient, and VITALERTER™ automatically alerts caregivers when a turn is due or has been missed. Turns are automatically validated and recorded with caregiver notations

Who Benefits from VITALERTER?
1) Skilled Nursing Homes and Senior Living Communities
VITALERTER fits perfectly to the need of postacute care settings such as rehabilitation centers and skilled nursing facilities where it is more difficult to provide 24x7 bedside care.
2) Hospitals and other post-Acute
Care facilities Intelligent under-the bed sensors eliminate the need to repeatedly sterilize monitors and remove the cuffs and wires normally associated with vital sign monitors. Caregivers are no longer burdened by the constant preparation and "hooking up" of monitors to patients. The data reporting format supports a team approach allowing all staff to see patient information. Caregivers can receive timely alerts at the nurse's station or via smartphones and tablets anywhere in the hospital regarding vital sign trends, body movement, and bed presence. In addition, a patient's information can be securely accessed by doctors and other authorized members of a patient's care network in remote locations.

3) Telecare monitoring - Extending the Boundaries of the Hospital
VITALERTER helps telecare operators to monitor continuously and remotely people located at home (elderly or when back from surgical). It keeps clinical care teams informed in near real-time of changes in patients' conditions that, left unchecked, may cause subsequent hospital readmissions or emergency department.